How The Husband Got the Idea for LOVE NEVER DIES!
The Husband's background is in structural engineering and he loves architectural history, so when he read a book about Seattle's past, he was fascinated by the fact that Denny Park, the oldest in the city, was originally a cemetery. The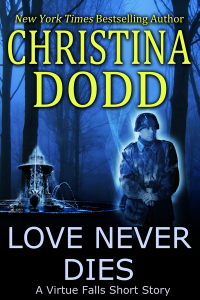 graves were moved to make it a park and my husband said, "What if they missed a grave and one ghost was trapped?" 

Makes a shiver run up your spine, doesn't it? It did for me and I knew I had to write Frank Vincent Montgomery's story. It's called LOVE NEVER DIES for a reason — it's a tale of murder, redemption and everlasting love. Read an excerpt.

Read LOVE NEVER DIES now!

Enjoy the whole Virtue Falls suspense series in order:
THE LISTENER: Your introduction to Virtue Falls, a Short for only 99 cents
VIRTUE FALLS: A Full Length Virtue Falls Thriller
OBSESSION FALLS: A Full Length Virtue Falls Thriller
LOVE NEVER DIES: A Love-Affirming Virtue Falls Short
BECAUSE I'M WATCHING: A Full Length Virtue Falls Thriller
THE WATCHER: A Virtue Falls Short starring Kateri Kwinault 
THE WOMAN WHO COULDN'T SCREAM: A Full Length Virtue Falls Thriller
A DARK AND STORMY NIGHT: A Compilation of Three Virtue Falls Shorts

Don't have an eReader? Download one of the free eBook reader apps and enjoy LOVE NEVER DIES on your phone, tablet or computer!