This sale was one day only, November 20, 2022. Please join my mailing list for timely news about book sales, book releases and funny insights into the writing life. Join! 
Read a sample newsletter called "I did not get arrested" for your daily laugh!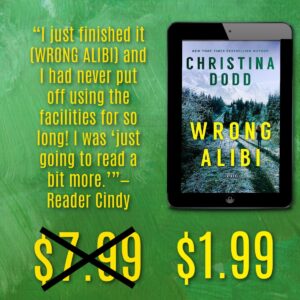 WRONG ALIBI is a homage to one of my favorite stories, The Fugitive. The movie is Harrison Ford, Tommy Lee Jones, brilliant pacing and so suspenseful! I gave the story a twist by setting it in Alaska, creating an clueless heroine who is convicted of a brutal double murder, and after a harrowing escape, lives to catch the real killer and get justice for herself and the innocent victims.
ALASKA
Midnight Sun Fishing Camp
Katchabiggie Lodge
         January.
         Five and a half hours a day when the sun rose above the horizon.
         Storm clouds so thick, daylight never penetrated, and night reigned eternal.
         Thirty below zero Fahrenheit.
         The hurricane-force wind wrapped frigid temperatures around the lodge, driving through the log cabin construction and the metal roof, ignoring the insulation, creeping inch by inch into the great room where twenty year old Petie huddled on a love seat, dressed in former guest's flannel pajamas and wrapped in a Pendleton Northern Lights wool blanket. A wind like this pushed snow through the roof vents, and she knew as soon as the storm stopped, she'd be up in the frigid attic shoveling it out.
         Or not. Maybe first the ceiling would fall in on top of her.
         Who would know? Who would care?
         The storm of the century, online news called it, before online disappeared in a blast that blew out the cable like a candle.
         For a second long, dark winter, she was the only living being tending the Midnight Sun cabins and the lodge, making sure the dark, relentless Alaska winter didn't do too much damage and in the spring the camp could open to enthusiastic fisherman, corporate team building and rugged individualists.
         Alone for eight months of the year. No Christmas. No New Years. No Valentine's Day. No any day, nothing interesting, just dark dark dark isolation and fear that she would die out here.
         With online gone, she waited for the next inevitable event.
         The lights went out… READ MORE (click the excerpt button.)
WRONG ALIBI is my bestselling suspense. Today only, Sunday November 20, 2022, get it in eBook for $1.99! And enjoy.
WRONG ALIBI is also available in paper and audiobook.
If you like a light read, the companion novella is RIGHT MOTIVE: "Bigfoot and the three bears." 😊